Academic Year 2018 Commencement Ceremony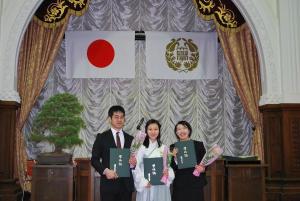 On March 24, 2019, Academic Year 2018 Commencement Ceremony was held and 3 program students were granted a doctor's degree. They have completed the program and whose diploma mentions the completion of the program.
Three graduates; Dr. Hiroaki Ishikawa and Dr. Minako Shitara, 2 out of 3 completed students will be working in Japan; Dr. Ke Ma will be working in Singapore as a researcher from April. We wish their further success in the new environment.
Master's degree conferment ceremony was also held and 10 of the 2nd-year students were awarded the master's degree. Those 10 students will be advancing to their doctor course in April.