Academic Year 2018/Manufacturing and Value Creation Seminar II at Chulalongkorn University, Thailand
The ten second-year students visited the Chulalongkorn University, a partner university of Shinshu University, for the "Manufacturing and Value Creation Seminar II" from August 6 to 11, 2018. It was the 4th workshop for us with Chulalongkorn University. We had workshops on student research presentations, an overview of academic and research activities at each university, poster presentations, cultural presentations, and visits to cultural sites. During the workshop, we could have active discussions and learn each cultures. We also visited an experience-based activity facility and we could learn their food, lifestyle, and hand crafts there.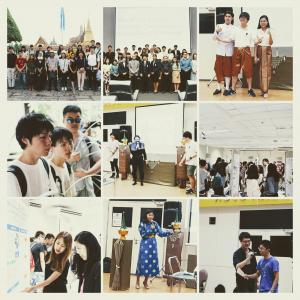 In TEIJIN POLYESTER (THAILAND) LIMITED, we learned manufacturing process, the technique, and fine facilities. We do appreciate that they politely answered and explained each question from our students; what they do in Thailand, how they work with Thai colleagues, what kind of things they find challenging, and about working abroad. Through the discussion, we were impressed by their global activities and in addition, a graduate working at TEIJIN POLYESTER (THAILAND) LIMITED joined the discussion to give us some advice.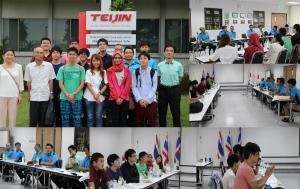 [Participation report by James Hirose, 2nd-year student]
1. Purpose of participation
Modern Japanese manufacturing is not without the ASEAN countries as they are the backbone of many Japanese companies, and they will grow deeper in our relationship as we move toward into the future. Therefore, our main purpose is to see this industrial relationship happing in front of our eyes and to learn the concept of global corporation. Thailand was chosen for one of the reasons of the amount of Japanese companies and wide range of our culture has been integrated into.
2. Problems identified as a result of participation
At our final day at Thailand, I have experienced some culture shocks that I have some ideas what it might be like (at least for me) to live in it for a long period of time (and even I am still judging its book by the cover at this point). Visiting TEIJIN POLYESTER (THAILAND) LIMITED made me especially curious on how the Japanese workers, who have been in their position outside of Japan for a good amount of time, do what they do. When I asked what can we do to prepare or do to work abroad, I was expecting an answer where it can be about cultural integration and blending in; but instead they told us that they needed to have more engineering skills than their team/workers and maintain on top of everyone to be able to teach and run the company. They are there to supervise the workers in the Thai factory and in a sense, it is their job to be on top of their team and the situations that comes with it. Another thing they told us is that supervising a Japanese company's maintenance and rules to workers who are brought up from different culture and background will be very important, and of course, very difficult. The key is to be able to explain each rules and their points down to the core of its reason. Things we will find atarimae (obvious or normal) will not go through the people from outside of our own culture, and it will be necessary to explain the reasoning of each action. As for me, a person who usually takes things for granted, breaking things down and understanding the full meaning of almost anything is going to be a hard challenge to prepare before being able to do so.
3. Results of participation
As I see myself to be in a big company after I complete my program, I have always wondered what it will be like to work at a non-Japanese location, especially the places where Japanese and even English does not necessarily work as a communication tool. Instead, learning that technological skills and knowledge being the common language in a work place a big perspective changer. The lessons I have got from this trip is possibly the most educational as a Japanese researcher who might be working in a foreign place.
4. How will you apply what you learned to your research?
More likely, I can take the lessons from this trip and train myself to break-down the concept of many of my action and see for what they might be. This being a good reflection on my everyday ideas and a better preparation for my next step after the leading program.