Academic Year 2017 Commencement Ceremony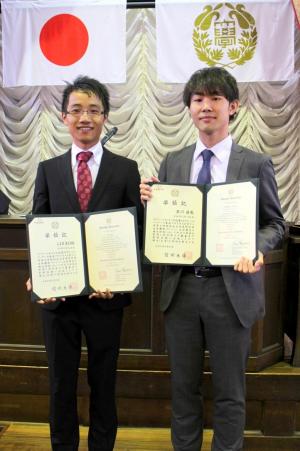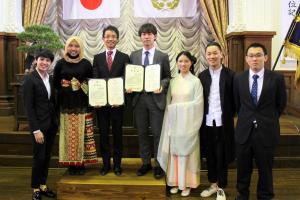 On March 24, 2018, Academic Year 2017 Commencement Ceremony was held and 2 program students were granted a doctor's degree. They are the first 2 students who have completed the program and whose diploma mentiones the completion of the program.
5th-year student Dr. Tatsuya Ishikawa was in our program for 3 years, joining after he completed a double degree program with ENSAIT, France. 4th-year student Dr. Liu Bing from China only needed 4 years to finish our program which is designed for 5-year long. Dr. Ishikawa was the most senior and Dr. Liu was one of the very first 8 students we had, they never failed to show their leadership among the program students. They both will be working in Japan from April. Junior students look up to both of them (and we Secretariat relied on them very much); we wish their further success in the new environment.
Master's degree conferment ceremony was also held and 8 of the 2nd-year students were awarded the master's degree. 6 out of 8 students are international and they dressed up in their traditional costumes; with Japanese female students in kimono or hakama, they added more colors to the ceremony. Those 8 students will be advancing to their doctor course in April.