Academic Year 2017 / Manufacturing and Value Creation Seminar I at BOKU, Austria
A joint retreat for students at the University of Natural Resources and Life Sciences, Vienna (BOKU) and students of the Shinshu University Leading Program was held at BOKU in Austria from May 26 to June 5 as Manufacturing and Value Creation Seminar I, which is a required course for first-year students in the Leading Program.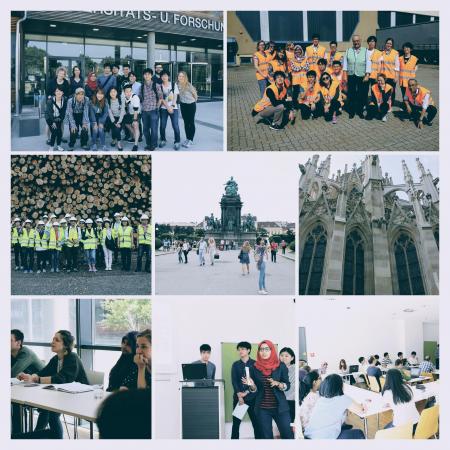 Student's report by Mr. James Hirose (1st-year student)
1. Purpose of participation
As a student of the leading program, we are to be raised as international leaders. Therefore, seeing the world and knowing, understanding the unfamiliar cultures are essential. Seeing companies and universities at the other side of the planet that show different views on running a project allow us to know what a global standard can be outside of Japan.
Also, during our stay in Tulln and Vienna, we can find the value, and the standards of being able to communicate in English in a country where it is NOT the first language. At BOKU university, we will exchange presentations and know what a research presentation style looks like.
At the same time, see what Europe is (specifically; Austria) as a cultural stand point and candidate for my third-year foreign intern stay. And of course, expand our cultural horizon in a country with fantastic rich parks, museums, and architects.
Finally, although not necessarily the main purpose, to meet many people from different countries, and deepen our own global connection.
2. Problems identified as a result of participation
This trip, shocked me with a realization on how Japan manufacturing is valuing a single subject differently. One thing I can point out is the fact of what both countries think when it comes to the term; "eco-friendly". We had the privilege to visit Lenzing and Sappi, companies that makes high-end products in their field. Because both require tons of water to make their product, the factories are located on, or near a river. As a result, the used water is cleaned before returning into the river. In fact, Lenzing mentioned that the returned water is cleaner than when they borrowed it from the river. I have never seen so much caring for the environment at a factory tour. THAT is environmentally friendly. THAT is ecologically friendly.
Meanwhile in Japan, I have heard companies or factories say that their policy, or product is "eco-friendly", but I am not certain what the "eco" stand for. Sure, the machines' fuel consumption is indeed becoming more efficient, small packaging produces fewer waste by making it with less labels and wrapping, but most of it seems to benefit the users as well. Meaning is can greatly be "economically friendly". I am greatly inspired by the selflessness of the two companies and I have reflected myself to see my actions in the future.
After coming back, I have felt a stronger need of becoming a researcher and a leader in a global stand-point. I have always seen myself a Japanese person, working and studying in a Japanese work place or school, viewing the possibilities of tomorrow in a Japanese environment.
But especially watching the BOKU university students I felt like I have woken up. By witnessing the global standard with my own eyes, I am no longer be satisfied for what my research and presentation skills are. I believe I need to practice my research to a level where it is doctor worthy. I must accelerate my research. I hear it is normal that the first year into the leading program is hard to progress own's research, but I am not getting anywhere with what I am going. I even must say goodbye to some of my weekends if I have to.
Also practicing my speeches is another thing. I noticed I still get nervous giving presentations in English, even I try to make the talk up-lifting and casual along with some jokes here and there. I need to be able to give a smooth, calm, (and maybe a bit of charisma) to bring in the listeners. For overcoming that, I believe the first step could be to research on speaking tricks. After that, practice even more.
3. Results of participation
For choosing my foreign university studies, I have been sour on my choices. My view on which country to study at was basically a list of countries that English is a first official language. I was afraid of the fact I wouldn't be able to do my research at a county where I would have to communicate in a complete unfamiliar language.
It is very strange because I have had many non-Japanese friends and they all told me how people can communicate in English, but I never understood that fact until I have seen it.
Ever since my return, I have grown confidence in stepping out into the bigger world. Because I never thought Europe could be as convenient to get by, I now look forward to researching the universities for my study in two years.
Also, a minor result after coming back, I noticed (or at least think there is) a stronger bond between the classmates of this year's leading program. I no longer see every one of us as some dude or some girl but more a friendly fellow with the same goal and common interests. I think the next five years can be something nice.
4. How will you apply what you learned to your research?
My field may be an uncommon, but I have already found some schools in Europe. Even though, most of them are not using English as first language, I am more confident in "surviving" there. Because I find some schools that have common research topics, I realized I can read a lot of papers from their universities. (Strange I have never thought of such ways of finding research papers.)
Since my research relies heavily on human's perspective, I need many volunteers to gather proper results. For I am now less awkward among the leading students, asking for their help is not as difficult as it was before. In fact, asking for advises can be much more of a powerful influence on my project, now that my fellow classmates know my research topic.
Interesting. Going to Austria crates positive impact onto my research. Who knew?