Factory Tour at Mimaki Engineering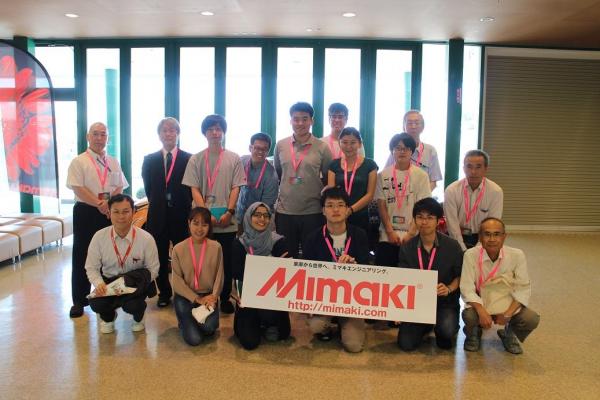 On June 20, a group of 10 first-year Leading Program students visited Mimaki Engineering Co., Ltd., in the city of Tomi, Nagano Prefecture, as part of their Textile Fundamental Practical Training. The trip was the second such visit in two years.
When a student asked whether it was possible to print on a liquid during a question-and-answer session following the group's tour of Mimaki's factory, a Mimaki engineer replied, "It's possible, but it's unclear whether there's actually demand for such a product." In this way, Mimaki not only offered honest answers to students' questions, but also made time to think together about associated issues involving demand.
The Leading Program would like to extend its thanks to everyone at Mimaki Engineering for spending time with students to give them a tour of the factory.
[Participation report by Sofia El-Ghazali, 1st-year student]
1. Purpose of participation
To understand how high quality 2D and 3D printed products are made in a printing company and to learn how Mimaki engineers, in particular, leverage their inkjet printing technology and cutting technology to develop innovative products;
To know how Mimaki technicians managed to solve the challenging problems they have been facing over time and to inspire from their excellent decision taking skills;
To discover the process of printing on textiles and apparel (T&A), as it is the main focus of our visit.
2. Problems identified as a result of participation
As situated in Nagano prefecture, where most spinning took place over decades, Mimaki took advantage from its strategic location to integrate textiles and fashion into their core activity. But is it not better to let Textile companies print inside their facilities and not the opposite, regarding the possibility of choosing the most appropriate printable fabric during the conception phase?
Aside from the textile printing sector, it is obvious that Mimaki's integrated production system (producing the machines and using them for printing) is the key factor for being a leader in the printing market because this strategy protects the company's technologies, skills, and ideas from leakage. Is this strategy suitable for all industries?
Big amounts of money are spent on research and investment (7~8%). Could this be, in some case, a shortfall for the company?
3. Results of participation
For the Textile and Apparel sector, the company made the right decision while choosing to operate by themselves the 2D and 3D printing on fabric inside their factories and to develop new patterns using their latest technologies and know-how as well as their unique Digital printing expertise. Before printing, they pre-treat the fabric to make the surface waterproof and washable.
Mimaki's Management vision is probably the motive for opening T&A sector, as a "Development-oriented Enterprise" cannot miss such a big opportunity. Competitiveness with the other Textile companies on the printing feature would be only a plus for further developments.
Research and Investment is the most effective way to push the boundaries and to give the best of one's skills. In fact, moving from Analogue to Digital need big performant machines characterized by unquestionable quality. Also, it has been proven that all surfaces are printable besides water and air thanks to experiments and research. Only this can be a revolution for the future.
4. How will you apply what you learned to your research?
To get good results, there is no other secrets than investing oneself and being more involved in the research, trying many things with perseverance and doing one's best.