Corporate Speaker Delivers Lecture to Leading Program Students (3)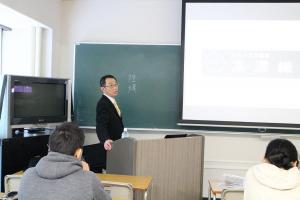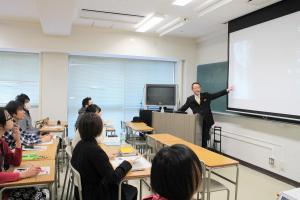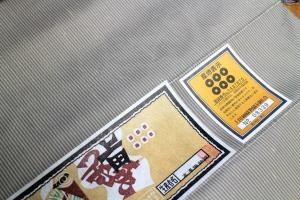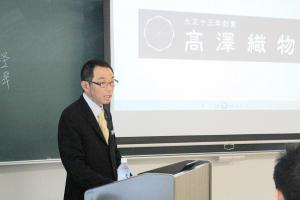 We recently invited an instructor from the Future of Textiles program, a next-generation human resources development effort spearheaded by the Textile Machinery Society of Japan and interested individuals from the textile industry, to give a lecture for the Leading Program's students. The speaker for this lecture, which is the third in a series, was Mr. Fuminori Takasawa, a textile designer at TAKASAWA TEXTILE MANUFACTURE Co., Ltd. in Nagano Prefecture.
TAKASAWA TEXTILE MANUFACTURE, a respected weaving company that was founded 93 years ago in 1924, produces Ueda Tsumugi (Ueda pongee), which is one of the three best pongee in Japan. The company has also embraced the challenge of manufacturing new woven fabrics made from organic cotton. To put the company's approach to weaving in context by means of a comparison with trains, if the rapier looms that are the most common machinery used in the industry are comparable to a Shinkansen bullet train, the looms used by TAKASAWA TEXTILE MANUFACTURE, which are able to create products with distinctive characteristics and added value, are analogous to a steam locomotive. The uniqueness of those products has been recognized in Europe, where they have been featured in Parisian haute couture, and by the Museum of Modern Art (MoMA) in New York, which has included them in its exhibits. The company has survived by developing a robust brand for its offerings and casting its dedication to Japanese taste and style as a selling point even as it endeavors to accommodate customers' wishes in a highly detailed manner.
After recounting to students how he met Ken'ichi Kondo of Taishoboseki Industries, who delivered the first in this series of lectures by textile industry professionals, Mr. Takasawa offered a fast-paced summary of his career, starting with his fascination with organic cotton and emphasizing the overriding need to contribute to world peace through organic textiles. Noting that the organic cotton label can only be used for cotton that has satisfied a rigorous set of standards requiring that the commodity be produced in accordance with fair trade principles and in a labor environment that has been carefully vetted to ensure that it is free of child labor and that the needs of workers are being met (for example, through work breaks and access to drinking water), Mr. Takasawa became passionate as he characterized his own job as intervening in the business cycle of organic cotton and adding value before making it available to the market. He also explained how the stewardship of TAKASAWA TEXTILE MANUFACTURE as an old and well-established business in a traditional industry demands leadership. As one example of such leadership, he noted that decision-makers must ascertain where it is appropriate and desirable to innovate and make changes, and where established methods and traditions should be retained and left unchanged. He also encouraged students to start a business and represent a company so that they could experience what it's like to build relationships between people instead of focusing exclusively on products. The message left a deep impression on his audience.
Mr. Takasawa also touched on the nature of leadership, asking the students to consider how decision-makers should lead. Offering a clear answer to his own question, he declared, "By directing people's actions."
Fabric produced by TAKASAWA TEXTILE MANUFACTURE makes its way into clothing that is worn on the runway at fashion shows in Paris. Clothing made from that fabric also adorns the display windows of department stores in Ginza. Knowledge of these facts flows back to the company, giving pleasure and motivation to its employees. The approach is perhaps the foundation that has allowed the company to thrive for 93 years.
The three speakers in this series of lectures--Engineer Ken'ichi Kondo of Taishoboseki Industries, President Yoshiaki Yashiro of Tokai Senko K.K., and textile designer Fuminori Takasawa of TAKASAWA TEXTILE MANUFACTURE Co., Ltd.--have all delivered distinctive and appealing talks to the students, and the ability to explore the connections among them represents a particularly valuable and meaningful opportunity. All three men share passion and character. In the future, the program's students will no doubt look back on their experience hearing these three speakers encourage them to move forward as future leaders as a true treasure.