Factory Tour at Komatsu Seiren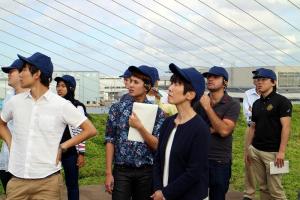 On October 6, first-year Leading Program students and interested students in the second year and up participated in a factory tour as a part of the "Practical Study in Textile Fundamentals." The students visited Komatsu Seiren Co., Ltd., a leading fabric manufacturer in Nomi, Ishikawa Prefecture. An alumnus Mr. Kazuhiro Yonezawa, Sales Division General Manager was the guide. Even though the students had to travel to Ishikawa as a typhoon was approching, they had some sunshine on the day of the tour and got to see beautiful blue-green sea of Japan from the company's roof top. They also had a chance to visit the Ishikawa Prefectural Museum of Traditonal Arts and Crafts to learn about her 36 kinds of traditional arts and crafts.
[Participation report by Chongchao Li, 1st-year student]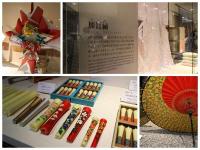 1. Purpose of participation
The Advanced Leading Graduate Program "Global Leader Program for Fiber Renaissance" aims to train graduates who possess leadership qualities and who can act as a leader in industry. It is important for us students to understand how good-quality products are made at manufacturing sites, outside the campus. To develop application skills, we will learn how the knowledge and the techniques we have learned in lectures and on campus facilities are employed in the actual manufacturing process. It also will be a good opportunity to discuss with technicians to learn problem solving skills. This factory tour is a part of the required course "Practical Study in Textile Fundamentals".
2. Problems identified as a result of participation
Compare to last two times of factory tours, this time was better. We had plenty of productions as well as technologies to see and it was easier for foreign students to understand what they were learning about. However, just because they had too many things to show us and we had too much interests to know those, we did not have much time left for the Q&A parts. But it is not a big deal though. I will just ask immediately when I have any questions next time. Besides, I think maybe it would be more wonderful if they could show us their productions in chronological order. Personally speaking, I will be more excited and interested to see new high-end technologies after old ones.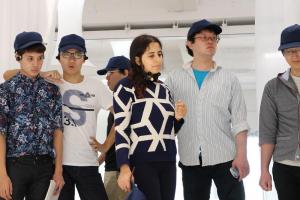 3. Results of participation
I think Komatsu Seiren is an amazing company. Although they said they are dyeing and finishing company at the beginning of visiting, I found they also developed other business. They use carbon fiber to make rope and applied that into their own building. Thanks to that the resistance of earthquake of the building has being improved a lot. Moreover, due to the dyeing process, there will be a large amount of waste being left every day. I was very surprised when I knew they use those waste to make some kind of building materials called Greenbiz. Furthermore those materials can be used as substrate to let plants grow in and help saving energy as well as reducing CO2! That was totally amazing! I think it is worth although they cost a lot. And those materials will be applied wider and wider in near future.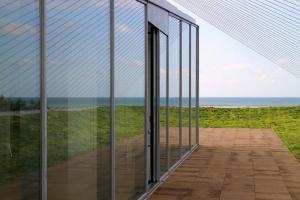 4. How will you apply what you learned to your research?
Komatsu Seiren is a company for fabrics. They focus on dyeing, finishing and producing new materials. I am also studying on developing new materials but it is different. Besides, they could hardly tell us any details about their processes, which of course is understandable. Therefore I can only get some general ideas that can probably be useful to my research. For example, one of their members noticed maybe it was possible to get natural dye from the skin of onion from daily life. And they did it. So I am thinking that maybe I can also get some wonderful ideas from my surroundings to let my research be incredible.