Corporate Speaker Delivers Lecture to Leading Program Students (2)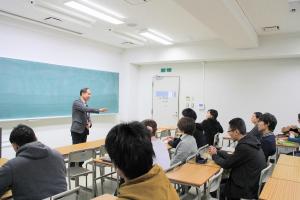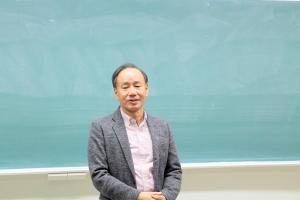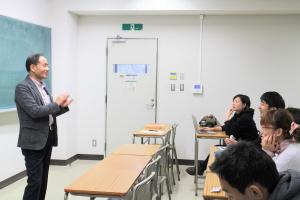 We recently invited President Yoshiaki Yashiro of Tokai Senko K.K. to give the second in a series of lectures by textile company professionals. The lectures are intended to provide an opportunity for students to meet corporate leaders and experience their passion and enthusiasm while learning about a forward-leaning approach that goes beyond the domain of ordinary knowledge. President Yashiro served as an instructor at the Manufacturing and Value Creation Seminar that the Leading Program held in Karuizawa two years ago, and he has since continued to cooperate with the program, including through a series of training sessions at a manufacturing plant in Thailand. Reflecting its status as a leading textile company with vision and foresight, Tokai Senko had already begun to globalize its operations in 1963, when it began production in Thailand. The company, which is also actively involved in non-textile industries such as childcare and IT system development, continues to boldly embrace new challenges.
During his lecture, President Yashiro spoke in a frank and candid manner about his experiences in life, starting with his childhood. He also communicated the importance of continually embracing bold challenges in a way that went beyond words. Through his talk, which highlighted the paramount importance of fostering employees' personal and professional development, students learned about the importance of investing in people. They also gained a sense of the dynamic energy with which President Yashiro is embracing the pace of change in the world and driving his company forward while cultivating penetrating vision and a sense of urgency that treats Japan not as a solitary nation, but rather in the context of the larger ASEAN community. He also offered the students an easy-to-understand account of the importance of outlook and character in learning from one's failures in a way that does not limit one's own potential, and he cited numerous examples of how to think and act while remaining true to themselves. Together with his assertion that there is a world of difference between trying and failing and not trying at all, his description of how failure drives personal growth made such an impression on the students that they have asked to hear more about those topics.
The Leading Program wishes to thank President Yashiro for taking time out of his busy schedule to speak to the students.