Corporate Speaker Delivers Lecture to Leading Program Students (1)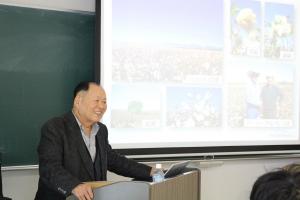 On October 21, Mr. Ken'ichi Kondo, General Director at Taishoboseki Industries, Ltd., delivered a lecture to Leading Program students.
Mr. Kondo, who has developed a reputation as a "wizard of yarn," spoke about the dreams he has had, the places he has visited, and the people he has met since his first year at the company. He described how he encountered organic cotton, a material that has inspired his enthusiasm for close to 30 years and his efforts to restore salt-damaged farmland by planting it with cotton, which removes salt from soil (he also launched the Tohoku Cotton Project). He also told the students about a stole closely resembling Dhaka muslin, a highly sought fabric that disappeared during the 19th century.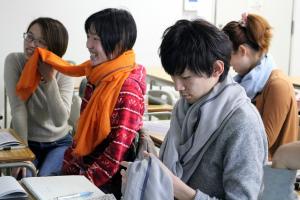 Mr. Kondo brought the stole, known as the "Mist of Dhaka," and let attendees touch it. The garment, which he removed from a wooden box, was improbably thin, light, smooth, and soft for something made of cotton. Some 40 years after seeing the fabric at England's Victoria and Albert Museum, Mr. Kondo succeeded in reproducing it on a loom. The students found themselves leaning in to listen, excited by the sheer scale of his spellbinding stories. We had heard that the lecture would take advantage of all five senses, and true to form, it highlighted the importance of being able to touch and handle objects as we learn about them.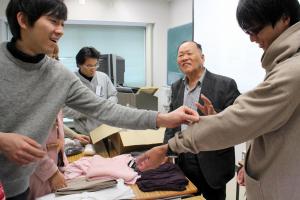 Mr. Kondo made time for the students to do just that after telling a number of captivating stories, offering them various types of cotton, specimens of fabrics made from animal hair such as cashmere and alpaca, and samples of clothing. Students experienced for themselves the texture and feel of numerous garments made from Mr. Kondo's yarn by major fashion brands such as Hermès, Chanel, Gucci, and Issei Miyake. They were also able to try on those items of clothing, in effect turning the lecture into a sort of fashion show.
One wonders how the students felt as Mr. Kondo told them, "Don't settle for 'fast fashion.' You've got to wear high-quality, authentic fabrics."