Practical Study in Textile Fundamentals (factory training at Toray Industries, Inc. Mishima Plant)
On September 9, first-year Leading Program students and interested students in the second year and up participated in a factory training program in Mishima, Shizuoka, as a part of the "Practical Study in Textile Fundamentals." During the session, they observed the manufacturing process and discussed with researchers there.
[Participation report by Muzamil Khatrii, 1st-year student]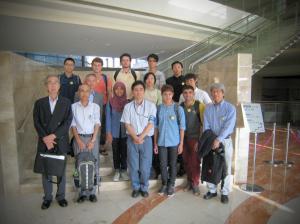 1. Purpose of participation
An industrial visit supported and arranged by Leading Program was basically one day training, in this was a great opportunity for us to enhance research for ultimate production. First year leading program students from Shinshu University had given a chance to focus on industrial production and advancements in the textile. It was an introduction of the Leading Program students to TORAY company and vice versa. It was a great opportunity to experience Japanese industrial system and to know how they manage the technical things develop their products according to market requirement.
2. Problems identified as a result of participation
There was a language barrier, they conveyed all the things in Japanese but Japanese students were with us and in my case Tatsuya-san translated many concepts for me which was being delivered there during our visit. Time was too short for the visit that's why we could not go through in deep mechanism of machines we saw there.
3. Results of participation
Visiting TORAY, Mishima was important for me because the name TORAY is very famous in Pakistan in accordance with textile machinery. As a result of participation, I got a good experience which will be very helpful for my research. Particularly, the use of different fibers for several purposes. History and gradual growth of TORAY encouraged me that I can also develop a company at my own by doing a cutting edge research, keeping the instant needs of this modern World in my mind.
4. How will you apply what you learned to your research?
Specific to my research, I saw some advancement in conventional materials and I think I can transform that technology to ultimate by using novel materials to achieve that purpose with reduced cost and enhanced quality of the material. I will try to overcome the issues I observed during the visit and use the experience acquired to enhance my personal capabilities and help other students for promotion of knowledge and research at our university.