Practical Study in Textile Fundamentals: Fabric Formation (Weaving)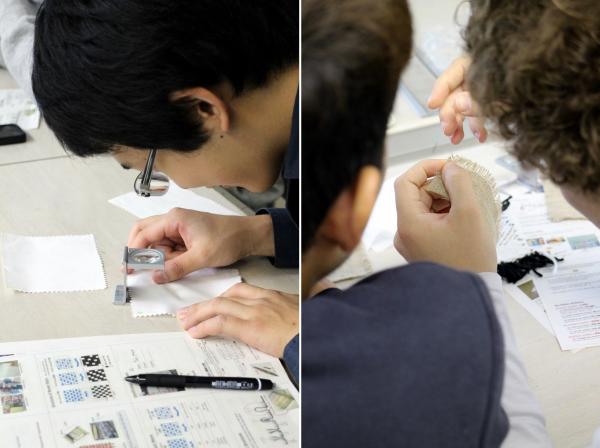 Shinshu University Advanced Leading Graduate Program is specialized in fiber and textiles which is offered by the only faculty in Japan that has "fiber and textiles" in its name, however, the program students' research fields cover various areas, not only fiber/textile but also chemistry, mechanics, robotics, biology, medical engineering and such. This means not all students actually have the basic knowledge about fiber and textiles when they enter the program. So we offer practical study courses for them to learn about spinning, braiding, knitting, weaving, pattern making, and nonwovens (needle punched and meltblown) during the 1st- and 2nd-year.
1st-year students had a weaving class in two groups the other day. They learned 3 basic weave structures: plain weave; twill weave; and satin weave, types of looms, and preparations such as warping and sizing. At the end of the training, they weaved a little square of fabric using a small hand loom by themselves.