Science Communication Seminar
We are delighted to invite you to a workshop for a better science communication and basic academic writing skills as follows. Anyone on Ueda campus is welcome to join the workshop.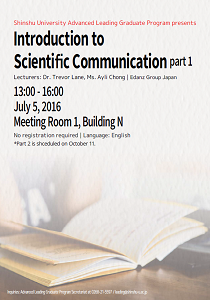 Date and time: July 5, 2016, 13:00-16:00
Place: Meeting Room 1, Research Center of Advanced Science Technology (Building N)
Lecturers: Dr. Trevor Lane and Ms. Ayli Chong from Edanz Group Japan
Contents: 1. Overview of manuscript structure; 2. Scientific presentation; 3. Paragraph and sentence logic; 4. Paragraph and text functions
The workshop consists of two sessions and the second session is scheduled on October 11, 2016, and it is desirable for you to attend the both sessions.
Since the workshop language is English, it is better if your English level meets one of the following: 605-780 on TOEIC; 513-547 on TOEFL PBT; 5.5-6.0 on IELTS.
The seminar slides are now available on their website, please click on here.