Students Organize Workshop with Non-Shinshu Leading Students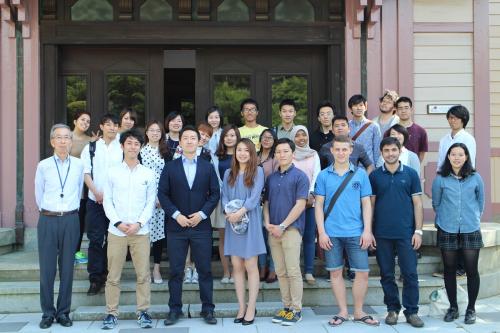 On May 13 and 14, 2016, we invited 4 students from other leading programs in Japan (Kumamoto University, Kyushuu University, and Doshisha University) for a workshop. Our student represetative Ms. Mika Izawa (2nd-year) and Mr. Hiroaki Ishikawa (3rd-year) coordinated the worskhop and excursion together with our 4 guest students.
The day 1 started off with oral presentations to introduce each participant's city/hometown, university and leading program, followed by a country guessing game as an icebreaker and a panel discussion with a topic "future prospect of PhD." All presentations were attention-grabbing and enjoyable, and contributed to active discussions during the Q&A session afterwards. During the panel discussion, the students shared their dreams, hopes, worries and concerns about their imagined future. When our student from Germany mentioned that PhD graduates in Germany are restricted to positions that have been approved for personnel with advanced educational qualifications, the discussion got heated.
Assoc. Prof. Kunio Iwaki gave a campus tour after the lunch; the tour included many facilities such as Research Center for Advanced Plant Factory, Fiber Innovation Incubator which has an anechoic chamber, farm, and museum. It was a wonderful occasion to see all those facilities at once and everyone seemed to enjoy the tour. Seeing the guest students appreciate this opportunity was also delightful.
We headed to Utsukushigahara highland on the second day. We chose this destination to fulfill the guests' request to see Japan Alps, so it was unfortunate that the clouds covered the mountain tops and we were unable to see the Alps or Mt. Fuji. Still the panoramic view amazed them and they seemed to have a good time in the beautiful nature that Shinshu offers.
We believe this two-day event let the students learn how much work is needed to organize an event as well as how joyful it can be to cooperate to make such an event come to life. Our sincere gratitude goes to Mr. Nan Kurehana and Associate Professor Akinori Hisatsune from Kumamoto University who participated right after the devastating Kumamoto Earthquakes, Mr. Takanobu Nobori and Mr. Shuhei Shinohara from Kyushu University, and Ms. Marie Taketani from Doshisha University. Without their cooperation and contribution, it would have been impossible to hold such an event.