Specially-appointed Professor Morinobu Endo Selected as World Academy of Ceramics Academician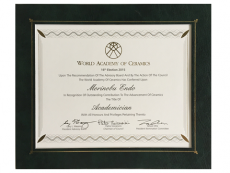 During the 16th election of the World Academy of Ceramics (WAC), the most influential organization in the ceramics field, Specially-appointed Professor Morinobu Endo was selected as a WAC academician. Professor Endo was recognized for his outstanding contributions to scientific advances and applications in the field of carbons, particularly in regard to nanocarbons and other new types of carbon materials.
The official awarding ceremony for academicians was held on June 14 in an event hall at the WAC headquarters in Faenza, Italy.
Following this ceremony, internationally active ceramics researchers took part in a symposium featuring wide-ranging debates and discussions on leading-edge ceramics research.