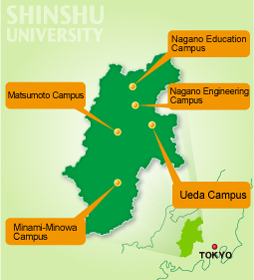 Human society in the 21century is currently at a position where it must establish a sustainable society in harmony with the environment on many critical issues such as global warming as discussed in the Kyoto Protocol, or pollution from hazardous chemical substances covered by the RoHS Directive.
To overcome these environmental issues, it is very important to foster environmentally-minded human resources in a range of fields.
Shinshu University has established ecological campuses certified according to the ISO 14001 Environmental Management System on all 5 campuses, with the aim to contribute in realizing an ecological society through student-centered activities, and to foster ecologically-minded intellectuals, researchers, engineers, teachers, doctors, legal professionals, and economists.
"Nurturing human resources of the ecologically-minded" was adopted as the 2004 Distinctive University Education Support Program by the Ministry of Education, Culture, Sports, Science and Technology in 2004. This website gives an overview of activities between 2004 and 2007 on each page. (Please click on the menu and DVD movie links above.)
One of these activities was the first national conference of the ISO Environmental Management System student committees ("Eco campus 2006"). Other work includes research on practical environmental education at Japanese universities as well as universities in the USA, the U.K. Germany, Italy and Sweden in order to contribute to the continuous improvement of environmental activities. Furthermore, an environmental educational DVD was produced.
Every year an activity survey was carried out for all students and faculties. The results of these activities were also recognized by citizens in 2005 and 2007.
Based on results over the four years, Shinshu University is aiming to develop further activities in 2008 and beyond over the entire university.
---