The Operator Supporting Robot iArmS Receives the 6th Robot Award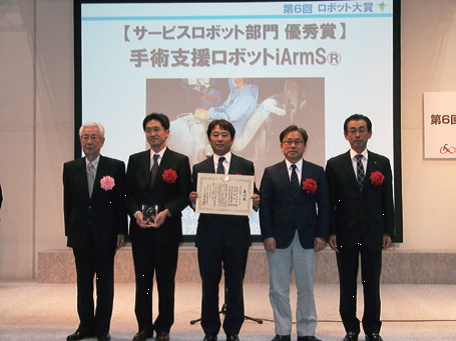 Research into robots to support the surgeon's arms was commenced in 2006 by the Department of Neurosurgery, School of Medicine. The operator supporting robot, iArmS, which has been developed since 2012 jointly with Denso Corporation and Tokyo Women's Medical University received the 6th Robot Award at Tokyo Big Sight on 15th October, 2014.

The Robot Award is granted by the Ministry of Economy, Trade and Industry and the Japan Machinery Federation and is given to robots with high contribution to market's creation for future. Its objectives are to promote the commercialization of robots and robot technology, to advance research and development and nurture the next generation of human resources, to propose solutions to various problems, to realize new social systems and create industries by bringing robots into society, by recognizing robots having the potential to make a large contribution to creating the market of the future.

The operator supporting robot, iArmS, that is the subject of this award is a robot used in neurosurgery, that firmly supports surgeons arms when the robot arms are static, and by lightly following the movement of surgeon's arms when they move, reducing the load on the arms and its vibrations. To achieve high safety a structure that does not use any motor is installed, and to realize high operability, the design balances the weight of the arms in various positions. Although not being a medical device, this robot is a motorless design to ensure the level of safety required for a medical device and the fact that it has already achieved much experience in actual operations and a
high degree of perfection has been highly evaluated.