System Overview
Message from the University President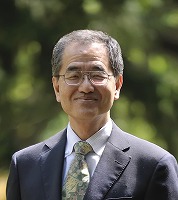 Dr. Kunihiro Hamada, President
Shinshu University was adopted by the MEXT's Special Coordination Funds for Promoting Science and Technology, "Young Researchers Empowerment Project" in 2007 and worked mainly in the Interdisciplinary Graduate School of Science and Technology, Shinshu University for five years. The "Young Researchers Empowerment Project" was started in 2006 by MEXT as a model to introduce the tenure track system which has established oversea such as the United States of America into Japanese universities and other research organizations in order to provide young researchers with independent research environment.

Since the adoption of the subsequent project, "Program to Disseminate Tenure Tracking System" in 2011, Shinshu University has been promoting the spread and the settlement of the tenure track system. Under Shinshu University's regulation, four institutes which are academic organizations of the Interdisciplinary Graduate School of Science and Technology, Shinshu University, "Institute of Science", "Institute of Engineering", "Institute of Agriculture" and "Institute of Textile Science and Technology" established tenure track systems which are best suited for each of them.

We continuously improve independent research environments for young researchers, enrich research funds and other support systems, and foster world leading young researchers through recruitment of excellent researchers from all over the world. Then we hope this would attract many young researchers and motivate them to conduct education and research in Shinshu University.
Summary of approach to Tenure System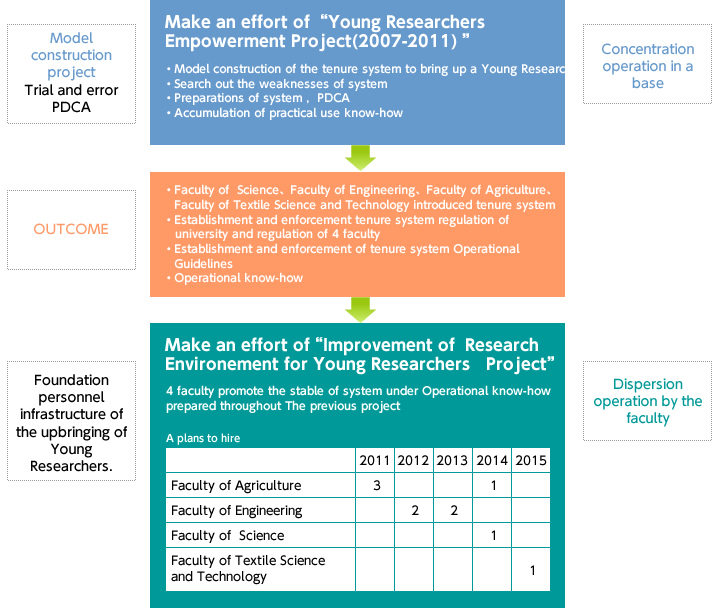 Tenure Track Program
A system of employment with a fixed term of appointment that allows young researchers to gain experience in a self-reliant research environment, becoming tenured (full-time) following strict review.
Tenure Track Faculty
Recruitment is international and successful applicants pursue research at the Shinshu University for a maximum of five years as Tenure Faculty. This period, faculty are positioned as a probationary employment period to excellent researcher and faculty and gains educational experience and research experience in a specialized field. At the end of the fifth and final year of the program, Tenure Track Faculty are to be judged for tenure(retiring age is 65) at Shinshu University on final evaluation.
Flow chart about Tenure Process(based on bylaws of tenure system in Shinshu Univ.)
The following overview describes the Promotion and Tenure Process in very broad terms. Participants' roles, special exceptions, and further considerations are described in much greater detail in the subsequent sections of this document.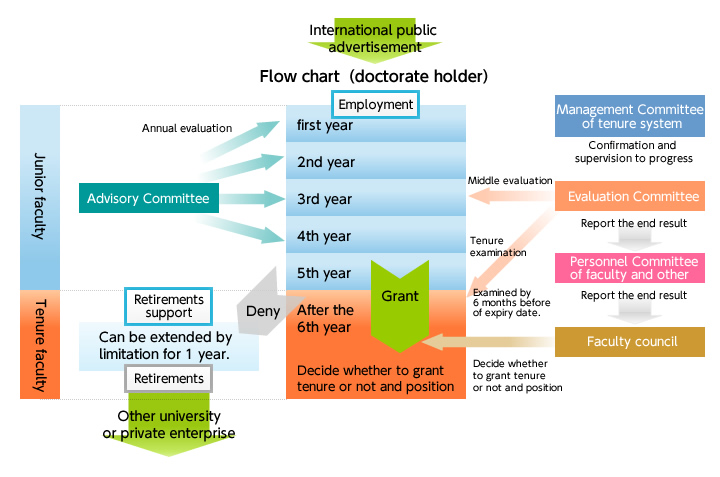 Mission statement
We aim at upbringing of a junior faculty who possesses the excellent education and research ability as the whole and high study promotion ability by spread and promote to settlement of tenure system to 4 science faculty composed Interdisciplinary Graduate School of Science and Engineering of Shinshu University most suitable for each under the overall bylaws of Shinshu University.
We adopt method of high transparency and justly by soliciting internationally in selection of a junior faculty.
And after junior faculty have been chosen though a very fair and open selection process and before those who pass a strict evaluation are given positions with tenure, they are given fixed term employment during which they can gain experience as independent researchers. Result of the Annual evaluation and a middle evaluation are explained to the person him(her)self, and a tenure screening criterion is explained when you employed.
Arrangement is planned which provided junior faculty(As Principal Investigator:PI) with individual research space and will work independently from senior faculty members to pursue their own research project based on the tenure system.