Kickoff Symposium for Near-Future Self-Contained Walking Assistance Cyborg Project
2015.07.02
Kickoff Symposium for Near-Future Self-Contained Walking Assistance Cyborg Project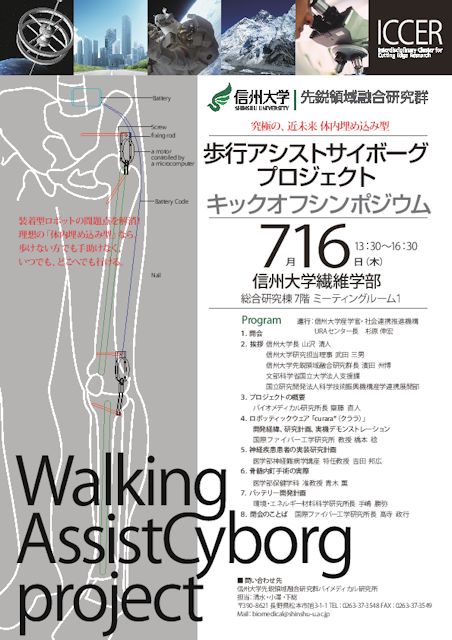 A kickoff symposium for the inaugural project of near-future, self-contained, walking assistance cyborgs will be held by the Interdisciplinary Cluster for Cutting Edge Research.
The endeavor is Japan's first co-operative project of medicine, engineering, and fiber science and combines the medical fields of device development, cranial nerve disease treatment, and motor function evaluation with those of robotics, batteries, and carbon fiber, the latter of which has been a great research achievement at Shinshu University. The need for smaller, lighter, and more highly performing walking assistance robots coupled to contactless rechargeable batteries is driving the development of cyborg science that will utilize intramedullary nail surgery to implant the devices.
We are looking forward to the attendance of all guests to help celebrate this momentous event. A networking party for company-related and administrative members will follow the symposium. Please apply using the attached application form.
Program:
I) Symposium
Date: July 16th, 2015, from 1:30 pm to 4:30 pm
Place: Meeting Room 1, Research Center for Advanced Science and Technology
   Faculty of Textile Science and Technology, Shinshu University Tokida Campus
   3-15-1 Tokida, Ueda City, Nagano Prefecture 386-8567
Master of Ceremonies: Dr. Nobuhiro Sugihara, Director of the Industrial Liaison and Social Engagement Organization URA Center
Schedule:
 1. Opening at 1:30 pm
 2. Welcome Addresses by:
     Dr. Kiyohito Yamasawa, President of Shinshu University
     Dr. Mitsuo Takeda, Trustee of the Research
     Dr. Kunihiro Hamada, Dean of the Interdisciplinary Cluster for Cutting Edge Research
     Representatives from the National University Corporation Support Division, Ministry of Education, Culture, Sports, Science and Technology
     Representatives from the Promotion Technology Transfer and Innovation Division, Japan Science and Technology Agency
 3. Summary of the Project
     Dr. Naoto Saito, Director of the Institute for Biomedical Sciences
 4. Explanation of curara(R): Development Background, Research Plan, and Demonstration
     Professor Minoru Hashimoto, Institute for Fiber Engineering
 5. Research Plan to Equip Nerve Disease Patients
     Professor Kunihiro Yoshida, Department of Brain Disease Research
 6. Explanation of Intramedullary Nail Surgery
     Associate Professor Kaoru Aoki, School of Health Sciences
 7. Development Plan for Battery
     Dr. Katsuya Teshima, Director of the Center for Energy and Environmental Science
 8. Closing Address
     Dr. Masayuki Takatera, Director of the Institute for Fiber Engineering
 9. Photographs
 10. Closing at 4:30 pm
II) Networking Party for Related Members
Time: 4:45 pm to 6:15 pm
Place: Mulberry Hall, Faculty of Textile Science and Technology, Shinshu University Tokiwa Campus
Entrance Fee: 3,000 yen
Application form (PDF:395KB)
Contact:
Institute for Biomedical Sciences, Shinshu University
Noriko Shimizu
3-1-1 Asahi, Matsumoto City, Nagano Prefecture 390-8621
TEL: +81-263-37-3548; FAX: +81-263-37-3549
E-mail : biomedical@shinshu-u.ac.jp