Developing professional communication skills in engineering students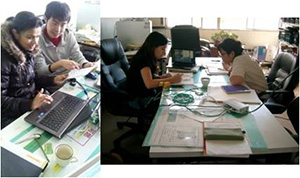 Studying the successes and failures of research in groups, with men and women from various countries helps students develop strong professional communication skills.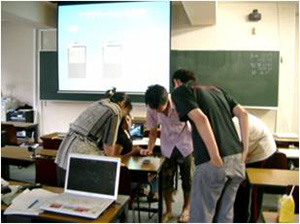 Learning what it takes to actually "show" an audience that an engineering solution works.
The students in the Kawamoto Laboratory work on developing important professional communication skills by constructively evaluating the successes and failures of their research work as much as possible during the school year with their colleagues. Their topics of study range from IT applications to support English education inside and outside of the classroom to investigations of the design/development challenges of cyberphysical systems for improving the condition of life in the communities and society around them.
研究から広がる未来
With more and more students eager and willing to do work in English to learn it rather than learn English to do work, there will be greater opportunities for research discussions and collaborations outside of the laboratory, outside of the university that will prepare students for the workforce even outside of Japan.
卒業後の未来像
By emphasizing the development of professional communication skills throughout the research process, graduates enter the workforce with versatile skills in adapting their work discussions with different colleagues, audiences, clients, etc.
プロフィール
Pauline N. Kawamoto(A.P) has been on the faculty at the Nagano-Engineering Campus in the Dept. of Electrical and Computer Engineering since 1996.
電子メールアドレス
研究者総覧(SOAR)
詳細を見る
オフィスアワー
部屋:6F 610室

Thursdays 15:00-17:00
他の時間の予約はメールで連絡をして下さい。