Kentaro Yokouchi  adapting form - mf 2011年 (部分)
Dean's Greeting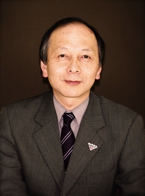 Dean of Faculty of Arts
Professor Masaaki YOSHIDA
The origin of our Faculty can be traced back to the foundation of Matsumoto High School under the pre-war education system, in 1919. The newly established Matsumoto High admitted 160 students, half of them being the residents of Nagano Prefecture. Granting, prior to the foundation of Matsumoto High, only eight high schools had opened the doors nationwide, and only a dozen students or so from Nagano Prefecture went on to tertiary education (who had no choice but to study at the High Schools in Tokyo, Sendai, Kanazawa, et.al.), it will easily be seen how immensely the establishment of Matsumoto High contributed to the cultural-cum-educational development of Nagano Prefecture.

As has become apparent, the age of globalization is also a time when we begin to confront and live a life of uncertainty. Our former, naïve hope--prosperous future would be achieved through the technological advancement--is now collapsing. Ceaseless conflicts, ecological devastation, the disastrous nuke reactor breakdown, and all the other daunting experiences of our time, are forcing us to re-view and modify the ongoing economy-centered set of values.

Liberal arts have been the core of university education since its advent in the Middle Age Europe, when mastery over Latin grammar, rhetoric, logic and so forth made the educational basis for the students, by way of which they proceeded to their specialized education; theology, jurisprudence, medicine, etc. Since then, Liberal Arts have been functioning as the most fundamental organ of higher level education, where diverse considerations addressing cardinal questions--such as "what is humanity?"--have been grappled with. With that backdrop in view, especially in this time of muddled world, the more conspicuous should become the raison d'être of liberal arts, whose principal function is to probe and inherit the core insights concerning the nature of humanities.

In April 2013, there was a reorganization of the Faculty of Arts, integrating the two antecedent departments--department of human informatics and department of culture and communication--into one: the department of humanities. The aim of the reorganization was to get the students ready for the demanding situation in the increasingly complex global environment. Hence the accompanying new curriculum is designed to make possible the mastery of much required hands-on skills and practical knowledge; wide ranging acquaintance with the humanities in general; communicative skills (including foreign language proficiency) to navigate the difficult world of globalization; creative potentialities for addressing and resolving diverse problems; leadership to guide the future generation.

My sincere hope is that the newborn faculty of arts at Shinshu-U serve as a good place of apprenticeship that helps our future Neo-Humanists to mature into decent citizens of the world.