An International Conversation on Education: Faculty of Educational Studies, Universiti Putra Malaysia and Faculty of Education, Shinshu University
 An International Conversation on Education between the Faculty of Educational Studies, Universiti Putra Malaysia (UPM) and the Faculty of Education, Shinshu University was held on December 15th, 2014. Dr. Roziah, the delegation leader, Ms. Shahriah, the head of Global and Corporate Liaison Section, eleven graduate students of Human Resource Development, Faculty of Education of UPM and students and faculty members of graduate courses on the Nishi-nagano campus in Nagano city discussed how to improve education. Nagano city had only a little snow that day; still, it must have been a cold day for the delegates from a warm country.
 This visit was one of UPM's quality exploration mobility programs. The main objectives were to learn and exchange ideas about graduate curriculum for teaching practical knowledge and skills in class and to discuss how to collaborate with the community and companies in terms of research and teaching.
 Each university presented two reports that were followed by lively discussion sessions. Some of the many questions from UPM students were about our university's projects to increase the rate of employment, about strategies for managing social contribution events, and about lifelong education in Japan. Our talk expanded to topics such as career education for children. Students from both universities were eager to learn from each other, especially about how to "improve" or "develop" quality education, and actively exchanged their ideas and thoughts.
 The discussions were followed by a welcome dinner at a nearby famous temple, Zenko-ji. We enjoyed a traditional Buddhist vegetarian meal together, further deepening our mutual understanding.
 After the event, our students expressed their impressions that the meeting with UPM was very inspiring. They felt privileged to have had such an opportunity.
 On behalf of Shinshu University, we would like to express our gratitude to all the participants from UPM for their kind visit. We sincerely hope to continue the conversation between UPM and Shinshu University in the future.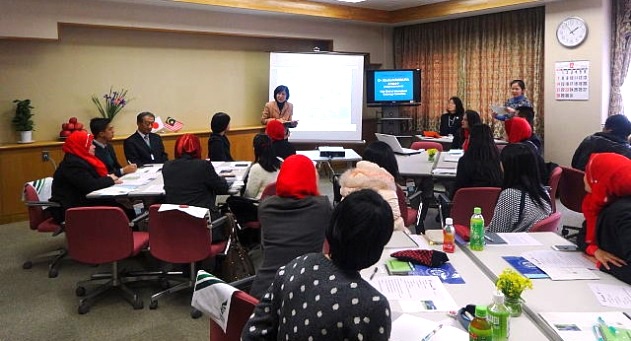 >>Malayan
Perbualan Antarabangsa mengenai Pendidikan antara Fakulti Pendidikan Universiti Putra Malaysia (UPM) dan Fakulti Pendidikan Shinshu Universiti
 Perbualan Antarabangsa mengenai pendidikan antara Fakulti Pendidikan Universiti Putra Malaysia (UPM) dan Fakulti Pendidikan Shinshu Universiti telah diadakan pada 15 Disember 2014. Dr Roziah sebagai Ketua perwakilan, Cik Shahirah Ketua Bahagian Perhubungan Global dan Korporat dan 11 orang pelajar siswazah Pembangunan Sumber Manusia, Fakulti Pendidikan di UPM membincangkan bagaimana untuk meningkatkan pendidikan antara pelajar UPM dengan ahli fakulti daripada kursus siswazah kampus Nishi-nagano di bandar Nagano. Pada hari itu bandar Nagano turun sedikit salji, tetapi masih menjadi hari yang dingin untuk para perwakilan dari negara yang bercuaca panas.
 Lawatan ini merupakan salah satu program mobiliti penerokaan kualiti di UPM. Objektif utama adalah untuk belajar dan bertukar idea mengenai kurikulum siswazah dalam pengajaran pengetahuan dan kemahiran praktikal dalam kelas dan perbincangan bersama bagaimana bekerjasama dengan komuniti dan syarikat-syarikat dari segi penyelidikan dan pengajaran.
 Terdapat dua laporan telah dibentangkan dari kedua-dua buah university, diikuti dengan sesi perbincangan yang hangat.
 Kebanyakan soalan dari pelajar UPM mengenai projek universiti kami dalam meningkatkan kadar peluang pekerjaan, strategi menguruskan acara sumbangan social dan pembelajaran sepanjang hayat di Jepun. Perbualan juga merangkumi topik-topik seperti pendidikan kerjaya untuk kanak-kanak. Pelajar-pelajar dari kedua buah university sangat bersemangat untuk belajar daripada satu sama lain dan bertukar idea dan pandangan secara aktif terutamanya bagaimana untuk "memperbaiki" atau "membangunkan" kualiti pendidikan.
 Majlis makan malam sambutan telah diadakan berhampiran dengan kuil yang terkenal iaitu Zenko-ji. Kami menikmati hidangan tradisional vegetarian Buddha bersama-sama, untuk mengeratkan lagi hubungan antara kami.
 Selepas majlis, pelajar-pelajar kami melahirkan tanggapan mereka bahawa pertemuan dengan perwakilan UPM sangat memberi inspirasi dan merasa bertuah kerana diberi peluang untuk beramah mesra.
 Akhir sekali kami ingin merakamkan ucapan terima kasih kepada semua perwakilan UPM atas lawatan yang bermanfaat dan berharap dapat mengeratkan lagi hubungan antara UPM dan universiti kami.